Furnished flat rentals for traveling professionals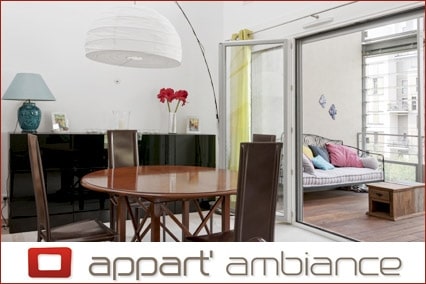 Have you thought of short-term rentals as an option?
Appart'Ambiance offers over 70 apartments for short-term rental in Lyon.
Provide your employee with safe, high-quality, comfortable accommodations that include a range of tailored services.
Your employee will stay in private furnished, fully equipped luxury flat that is like "a home away from home". Consult Lyon's leader in short-term rentals for business travelers.
Our portfolio features 70 high quality furnished city-center apartments whose availability can be checked in real time. Your sole contact is your Appart 'Ambiance representative. A vast range of diverse properties, from studios to three-bedroom flats, with a variety of floor surfaces, is available. We offer an ideal solution when transferring either entire families or single executives.
Your Appart 'Ambiance representative knows all of the apartments, allowing you to choose the flat that is right for you and informing you of its availability in real time. The minimum stay is 3 nights, and additional concierge services and personalized tips and advice are available.
Apart'Ambiance's staff helps you in your search and assists your employee throughout their stay in Lyon.
Value added for the HR department in outplacement
Including this accommodations solution in your Human Resources offer, for employee trips or for outplacement inside or outside your group, enables your HR department to maximize your company's performance.
It helps to increase the motivation, enhance the skills and improve the organization of your traveling staff by making them more comfortable and flexible.
How can you book a furnished rental in Lyon?
Do you have an employee on a temporary assignment in Lyon? Try out Appart'Ambiance's short-term rental solutions. It is easy to rent your furnished apartment for short, medium or long-term stays:
Simply book a short-term flat with Appart'Ambiance:
by telephone from Monday to Friday
by e-mail using the "information request" form
online 7 days a week, using your bank card
Online reservation is fast and simple. Based on the dates of your visit and your criteria, you are offered a selection of flats. Simply provide this list to your employee. You will be sent a summary of your booking for you to check, and payment is confirmed immediately. You will be sent a booking confirmation, along with your rental agreement, by e-mail within 48 hours after your deposit has been received.
A fast, easy way to reserve your employees' accommodations