Temporary accommodations in Lyon for business trips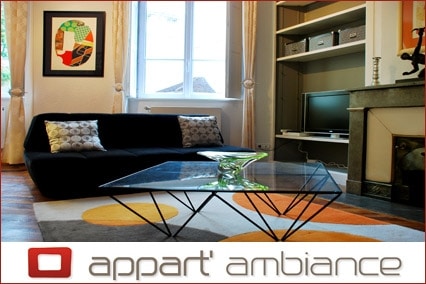 For business trips or temporary missions in Lyon
Perhaps you are a business person or executive who frequently travels to the Capital of the Gauls. Or you regularly come to the Lyon area for short business stays. Maybe you are a sales representative for a major firm on a prospecting assignment in the Rhône-Alpes region. Or you are exhibiting at a trade show at Eurexpo, the Palais des Congrès or another local venue.
Are you looking for alternatives to standard hotel accommodations?
Appart'Ambiance offers a comprehensive range of fully equipped furnished flats in the city.
Luxury, comfort and charm in characteristic city-center flats with all-in-one service to make your business trip to Lyon both pleasant and convenient.
Meeting your needs and expectations
Appart'Ambiance is more than just an alternative to the standard hotel: it is a temporary rental service that gives you a feeling of being "at home away from home."
To make your stay more comfortable during your assignment in Lyon, Appart'Ambiance offers you a full selection of concierge services:
Additional household linens
Dry cleaning
A la carte housekeeping
Taxi reservations
Luggage transfers
Assistance 7 days a week
Book simply, just like a hotel room:
Take advantage of Appart'Ambiance's flexibility and use your furnished rental like a hotel room. Our flats and studios are simple to rent and check out of.
Choose your apartment at http://www.appart-ambiance.com/fr/
Check the availability of your apartment in real time
Reserve online in less than 3 minutes
Phone reservations available at + 33(0)4 78 29 82 47
Appart'Ambiance's advantages for working people:
Professional customer relations:
during reservation (real-time availability, fast response to your requests)
during your stay (while you are in Lyon)
A single contact
Full knowledge of the range of flats
Personalized tips and advice
Hotel-style concierge services
Emergency hotline 7 days a week
Invoicing and VAT
Authenticity and local character
Warm, cozy, private accommodations
Upscale/high-end apartments
Le dirigeant
Développez votre visibilité et votre référencement Internet, mettez en avant votre entreprise et créez du trafic vers votre site web
Inscrivez-vous